Shaun's Requiem
OMG! SHAUUUUUN! LMAO! I freaking love you for making this video. Genius. Sheer genius. This is by far a kick ass song, Shaun of the Dead is a hysterical film, and when mixed there can be nothing but awesomeness in its wake. The editing was spectacular, I especially love the dart throwing ones hahahaha, I am going to stop talking before this turns into an endless ramble of greatness even though I am sure you wouldn't mind such a thing ;) It's been loads of fun watching your editing grow stronger from the very first round of EPMVA in spring of 05 to now. Thank you for sticking with us, or I guess since Joc left it is just me now, for so long. Keep up the great work :)


I still can't believe I haven't seen this movie. Good song choice to match with the clips. I liked the parts, "Easy high, easy low" at around 0:37, the "Mama" parts, at 1:50 - 1:54 and the parts at 3:02 - 4:05 were hilarious. Great video throughout and very nice editing.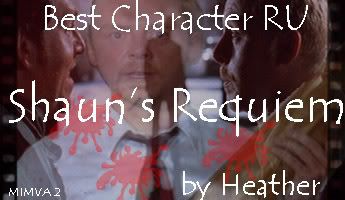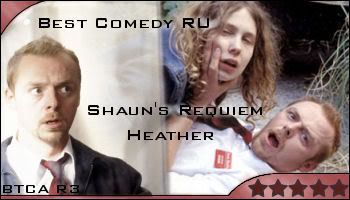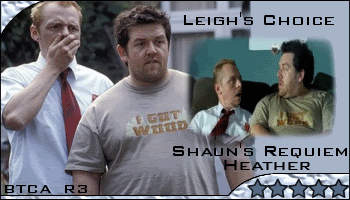 Praise: I'm always up for a zany zombie video! I love this song (the lyrics have been engraved into my brain) and as crazy and various as it can get, you managed to twist the themes and view of the video to fit it was well. Whether was slow and sad, rocking out, or a climatic banging beat, you pulled it off well. Sad watching his mother die, but funny watching them walk around town like zombies and then try killing them with various weapons (toasters, shovels, Molotov cocktails *g*) What a ride it was simply watching the video. It was appropriately sad and appropriately hilarious at the right times. Anything Negative: I'm either too tired to think of anything, or flabbergasted that anyone could make a good video to this song. Take your pick. ~Guardian

This was without a doubt my favorite vid this round. The choice of Bohemian Rhapsody was a stroke of genius! Shaun of the Dead was a strange mix of the tragic and the humorous so this song was a perfect fit. I really enjoyed watching this one. Congratulations, I hope to see more of your creations. ~ Leigh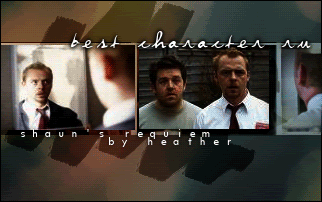 Shaun's Requiem by Heather
The song choice was great as well as the soft cuts and angles use from the camera footage. Internal motion was outstanding and everything fits so well with each other. I loved the character study with the footage being more serious than it really was. Great job!